期中发表 | Loading…BCU首饰研究生学习成果中期展(下篇)
● 2020.05.01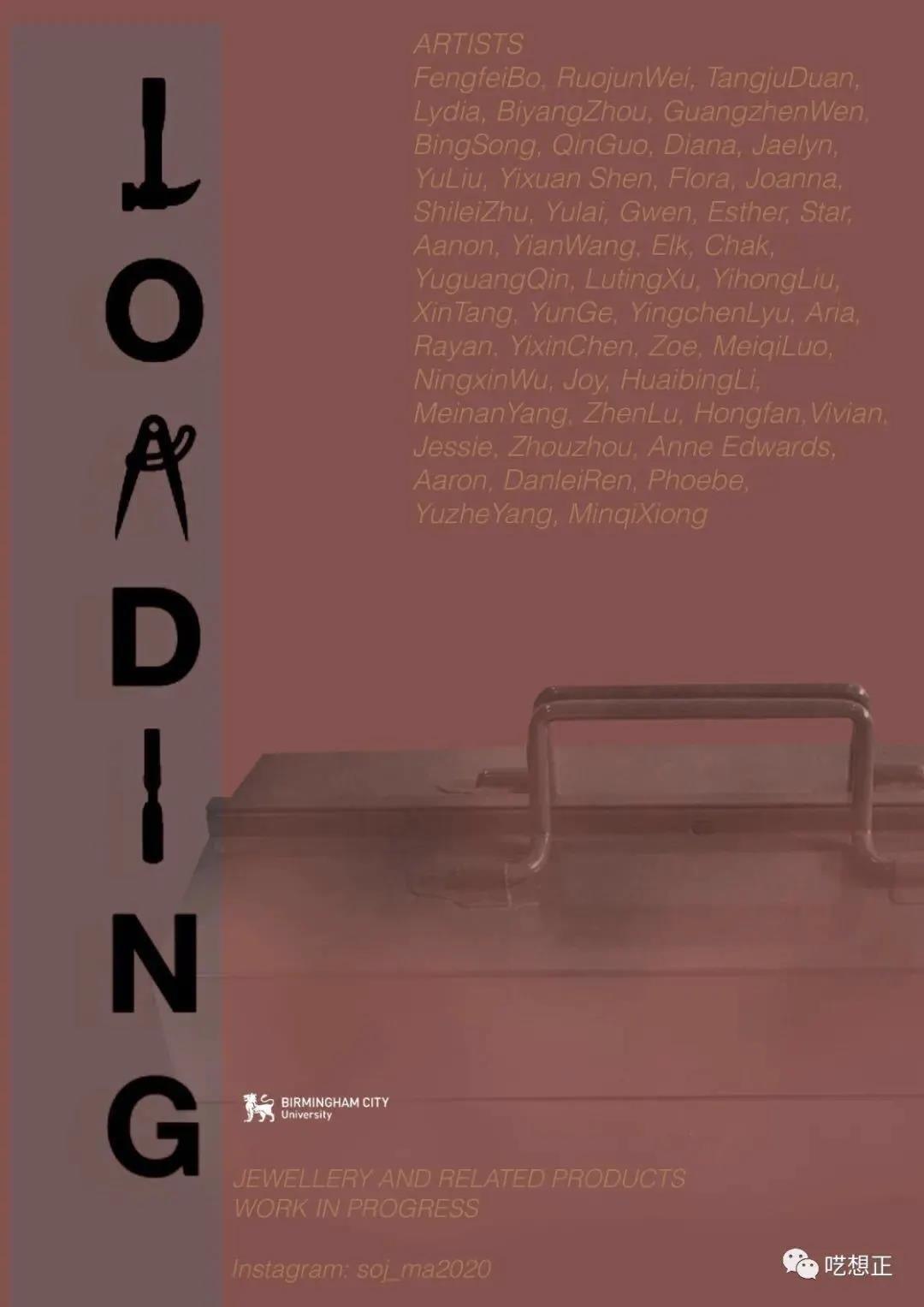 海报转载自公众号:呓想正
'Loading'
is an online work-in-progress show,
exhibiting 46 MA students
who are currently studying the
Jewellery and Related Products course at Birmingham City University.
This exhibition combines a range
of outcomes
based on jewellery and its perceived
values, functions, and forms.
We hope this exhibition allows insight
into our thoughts, ideas, concepts,
and challenges the expectations of
what jewellery is
and what it can be.
"Loading"
是 BCU 研究生的学习中期展览
其中囊括了46位正在伯明翰城市大学
学习珠宝及相关产品学生的工作展示
本次展览结合了一系列基于
珠宝及其感知价值、功能和形式的成果
希望让人们更深入地了解
我们的思想、理念、概念
并挑战我们对珠宝是什么
和它可以是什么的期望
以下作品都是同学们
在疫情艰难的条件下完成的
整个设计过程还处在中期阶段
本次展览以线上形式展示
一共分为上下两篇
更多讯息请关注公众号:呓想正
作品按类型分组,排列不分先后
Past & Future
P01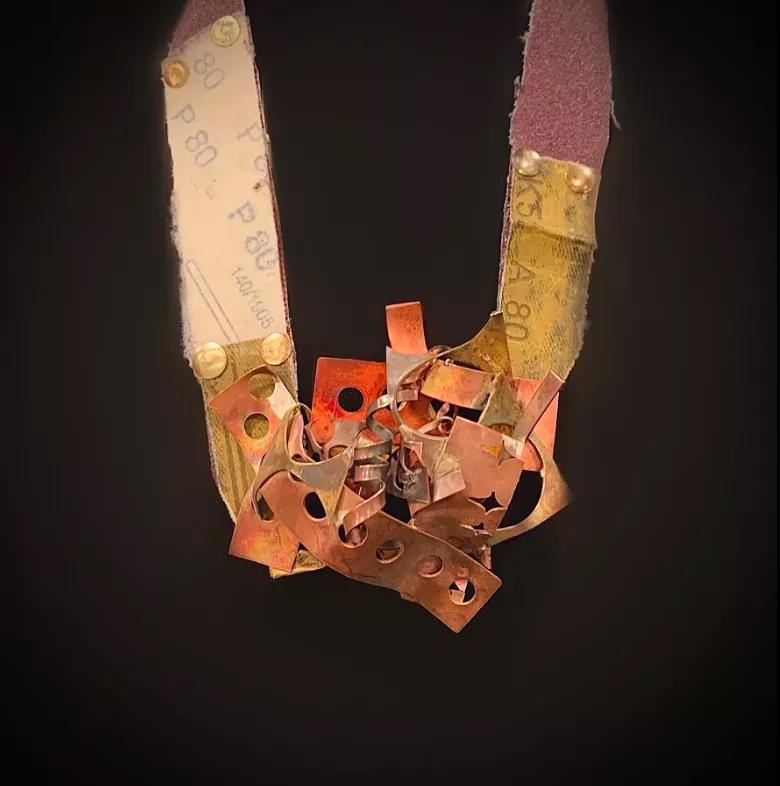 Bitong Luan
我的作品来自工作室的废料
展示了制作者与作品本身的联结
人的存在被容许于物质宇宙之中
人与物的关系,是
时空中留下的轨迹
I am a Chinese jewellery Artist studying in Birmingham City University. My recent work is about the trace, time and the relation between human and objects. I like the feeling the time and traces give me, it is a sense of content with the whole world: I am being watched all the time and I am tolerated by the material universe, and objects are witness of us. That feeling reminds me that I am a part of this world and I could left my trace to change it. And it brings the emotional connection between human and objects. My jewelry is aim to bring this feeling to my audience. I focused on the trace and wear leaved through the jewellery making process. All the materials used in that piece are useless wastes in our jewelry workshop. Aim to show the connection between the maker and the jewellery pieces.
E-mail:Luan.bitong.aria@gmail.com
P02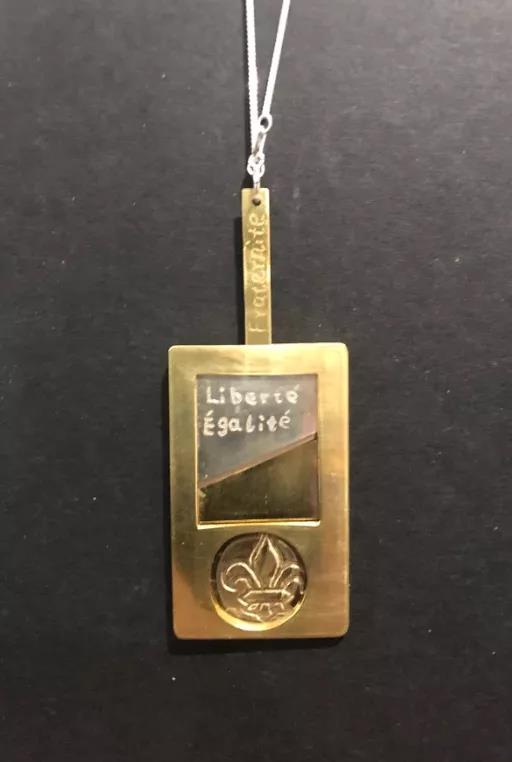 Biyang Zhou
以对抗王权之名处决
以自由平等之名行暴
我的作品以符号展现并批判历史
I am a Jewellery designer based in Birmingham, UK. My work is focus on both symbols and history. There are many glamorous symbols have appeared in history. And I try to use visual language in my Jewellery to show their beauty to my audience. Many people refer to the French Revolution as only liberty, equality and fraternity. However, not everyone knows that it's also the first time that's the reign of terror has come to the historic stage. My project shows my opinion of the execution of Louis XVI, that is not just a rebellion against the kingship, it's use the liberty, equality and fraternity to cover the essence of terror.
Material: Silver and brass
E-mail:zhoubiyang2018@163.com
P03
Gwen
文字宣告情感
内面对自己,蚀刻伤痛
外面对他人,强作欢颜
我的作品是自我疗愈的过程
希望也能抚慰他人的心碎
I am a Jewellery artist based in Birmingham, UK. My work is about memories of break up and loose my family members. I am trying to make some Jewellery to record my feelings of the process of forgetting. On the one side I put words of my struggle feelings and using etching material to show that my memories are blurred. And for other side which can be seen, I just use daily greeting words to show I am pretending to be fine. Cause I can feel that no matter how struggling I am, the memories eventually will be blurry. So I am trying to use jewellery to record it. My work is all about the people's feeling. I am trying to help myself out of the awful memories. And I really hope my work also can help others who have the same feeling with me to quickly go through the heartbroken stage.
Ins:changchenxin
Email:chenxinchang666@gamil.com
P04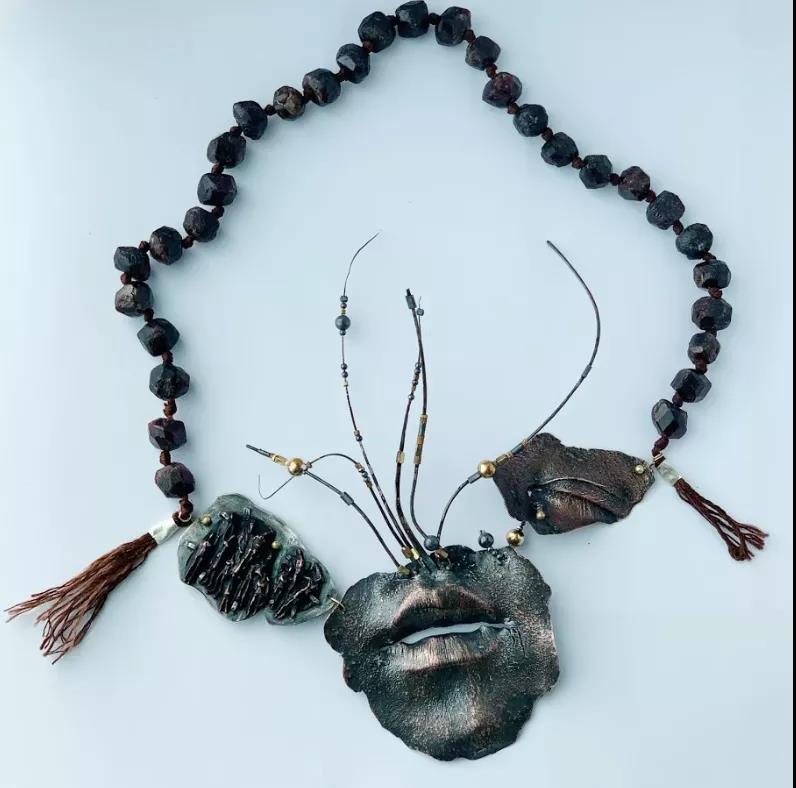 Zhou Zhou
"Apocalypse of doom"
奇幻的未来世界总是吸引着我
我试图用佩戴中的首饰创造空间
展示能量、联结与再生
目前创作中的系列
使用了金属、玻璃和植物和绘画
旨在呈现末日氛围
I am a fancied Jewellery designer, I am obsessed by the fancy future world, and also, I conceive of establishing a space by using wearable facilities, this space satisfies the basic requests of next-generation, like energy, communicates, multiply etc. I am now creating a series of jewellery about the judgement day of humanity; the primary material is metal, glass and plants. Sometimes the work also takes media and painting as a medium to convey the concept. Multiple methods to let the audience engage in my doom day atmosphere created in my design.
P05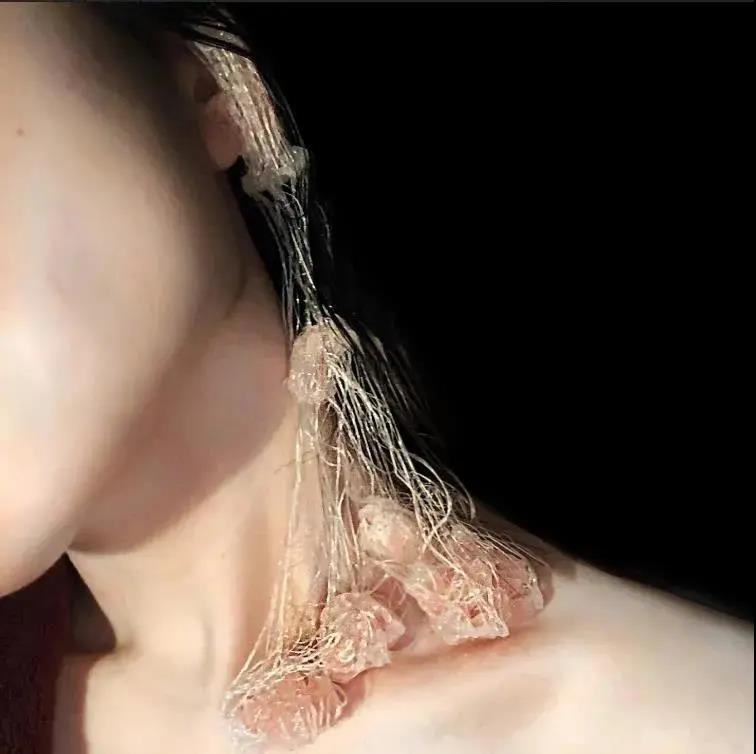 Meinan Yang
"Sensed Time"
过去、现在、未来
时常,我被流逝的时光浸没
我的作品发想来自蜘蛛网
佩戴在躯体上
喻示了光阴的流逝
也暗示在不可避免的未来
腐朽的躯体将被蜘蛛网覆盖
I am a contemporary Jewellery artist and studying in Birmingham,UK.For a long time I have been immersed in remembering the past and can't get out. I always think about the relationship between the past, present and future, and feel the passage of time. In fact, I always waste a lot of time in remembering the past, but I enjoy this process.
I like to think of myself as an object in the tunnel of time, and then I can feel the passage of time with my whole body. I use spider webs as the main visual language of my work, and use silicone that resembles skin texture and color as the nodes, and is wrapped together by spider webs. And wear it in the corner of the body, the purpose is to create an atmosphere of time is the protagonist, space is a supporting role, and people are just an object that will fall ash, will grow spider webs, let the audience focus on the passage of time.
My audience are people who are used to wasting time and are curious about the trajectory of time passing. These audiences will appreciate and perceive time more when they see my work. And I will cherish this opportunity during the epidemic quarantine and find a suitable way to record the empty time that has passed.
Ins: Meinan.yang
Email: meinan.yang@outlook.com
P06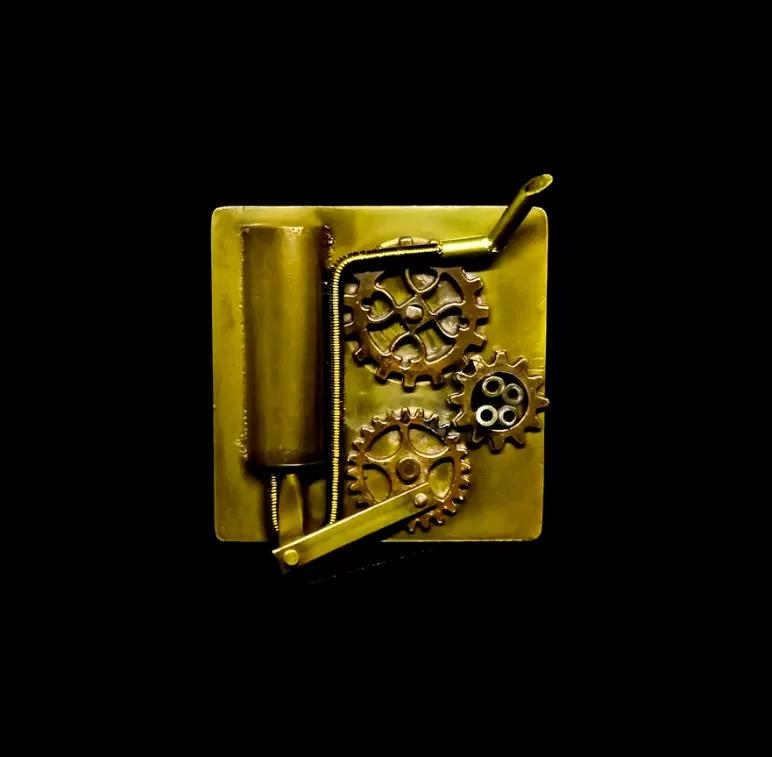 Raines (Yuguang Qin)
"The Precious Abandonment"
我的作品旨在传达
我对科技发展的乐观预见
直白的元素是对符号学的探索
我希望能带领观众回想
科技对人类社会带来的美好影响
I am a Chinese jewellery designer interested in the origin of science and technology. I find that there are many controversial inventions in nowadays technology, which makes some people query the future of technology development. I think the future of technology is bright, and I am willing to share it through art.
My work is a series of commemorative badges, which conceptually reproduced the achievements of technological revolution in different ages. I intend to make people think back to the contribution of technological development through highly readable visual symbols. I use visual elements, materials and texture to explore visual semiotics, and pursue more intuitive artistic expression effect. I intend to inspire the throughout reflection of people on the development of science and technology, in hopes of making visible what is positive significance of technological development.
Material: Brass, copper and kirsite.
Email: Raines.qin@gmail.com
P07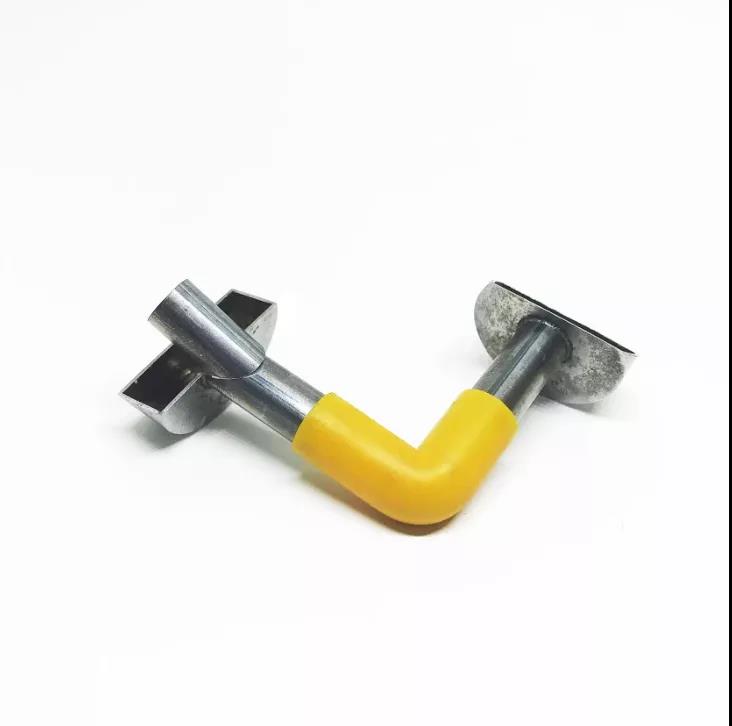 Huaibing Li (Liiy)
"Combination-2,3"
当人类居住在火星
首饰将如何被呈现?
我的研究是关于手工和3D打印的综合应用
在资源稀少的火星,
材料势必需要经过降解或再利用
我试图探索未来首饰的样貌
I am a Chinese jewellery designer. and I am interested in exploring the artistic style that may appear on Mars in the future. I cut my project according to the principle that Mars lacks resources and materials need to be decomposed and reused, I find different shaped components and the rules. In the process of concretizing the future, the combination of handmade and 3D printing is the way of expression that I am currently exploring, and imagination and technology are its support. I like to find answers in countless possibilities in the combination of components and try to find what future looks like.
Ins: foxor_liiy
E-mail: huaibingliiy@163.com
个人公众号:阿B的杂货铺
Sensibility & Feelings
F01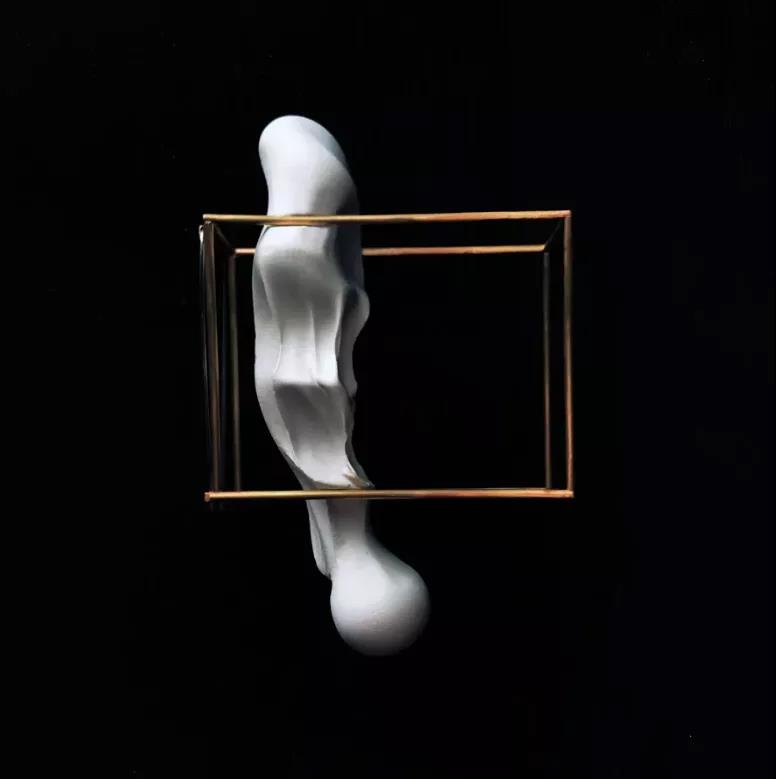 Aaron
"You are being Squeezed"
我试图表达
空间和情感的关系
这件作品叫做"你正在被挤压"
I am a Chinese jewellery designer and the theme of my project is about the connection between space and emotion. The plaster form in the middle is made by using my hand to squeeze the liquid plaster in the balloon, and it is controlled by the geometric structure made of brass. For this object, I try to explore the relationship between feeling of squeezing and the body movements when people getting into an narrow space. Is you squeezing the space? Or Is the space squeezing you?
Material: Plaster, Brass
Email: 417507633@qq.com
F02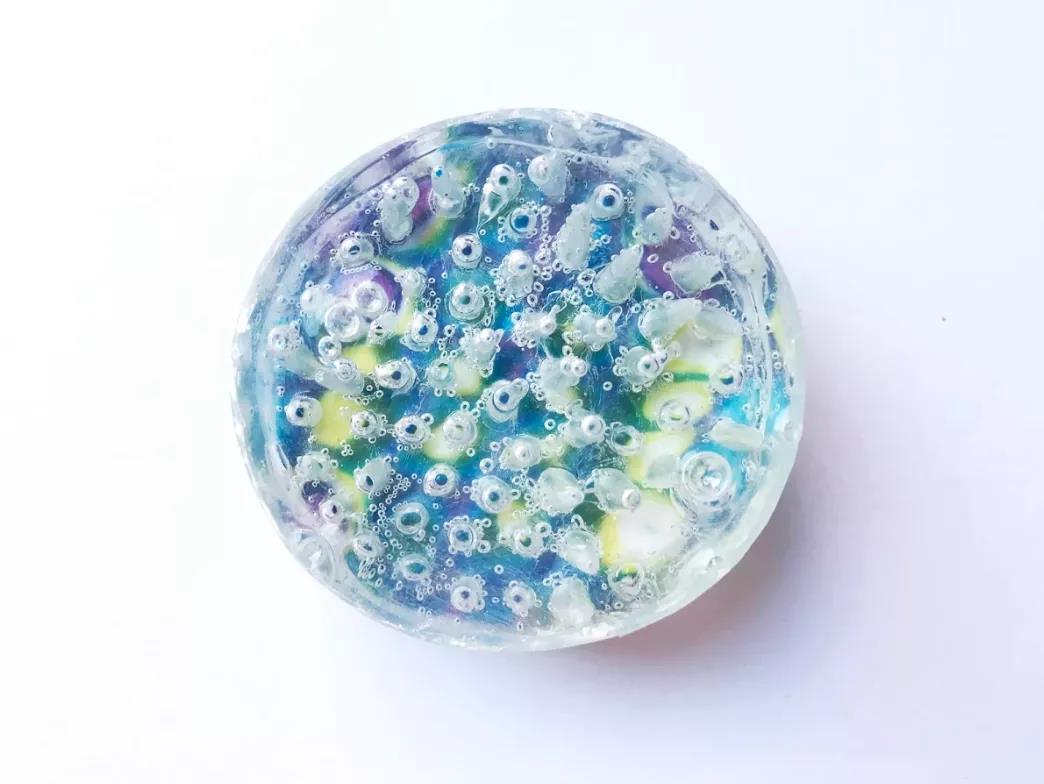 Qin Guo (Anna)
"See It, Touch It"
人类的情感如何与触觉联结?
视觉又产生了什么误导?
我的作品旨在引导人们
重新发现触觉及其引起的感受
I am an art Jewellery designer from China. I work on the sensory system of human, what human emotion linked to the touch, and what vision misleading this emotion.
In our daily life, we often touch things surround us, but this habitual behaviour makes us seems to ignore the rich emotions tactility brings. So what if the artwork can change the sign that was forbidden to touch in the past, and help us re-recognize this delicate emotion. I made my artwork a rich aesthetic pattern and colour to enhance the tactility of people and change their emotions, or even misleading touch. I hope after touch my work, people can rethink the important role of tactility in our lives.
F03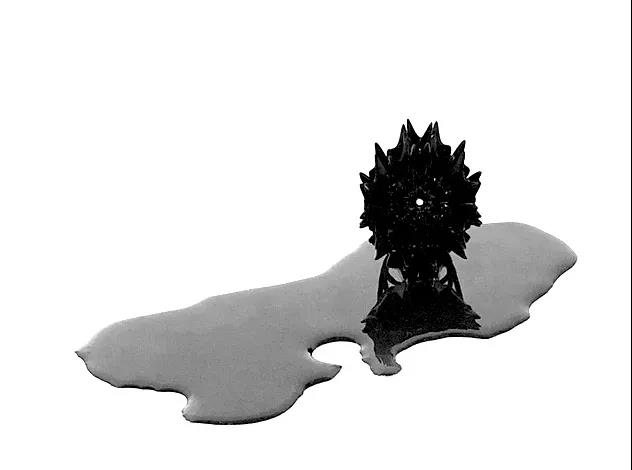 Anne
"Into the Light"
黑暗,何以名状?
我使用的材料从
金属到亚克力及树脂3D打印,
尝试从文化、科学及哲学的角度来审视
"黑暗"这个现象
I am an American contemporary jewellery designer who is interested in the unknown and the unseen. Darkness is an elusive phenomenon that is, for the most part, unknown to us. The concept of my work is focused around darkness and its ability to be 'seen', by creating individual elements that can be brought together to create a whole. I use a range of elements that relate to the cultural, scientific, and philosophical perceptions of darkness. I use a mixture of materials and processes, from metal fabrication to 3D printing to resins and acrylics. I look for materials that will allow me to explore forms, textures and proper finishing qualities for my work. By putting these elements together into a collection, I aim to create a new perspective on darkness by bringing it into the light.
Material: Brass, CZ, Copper,Powder coat
IG: anne_edwards17
Email: aledward17@gmail.com
F04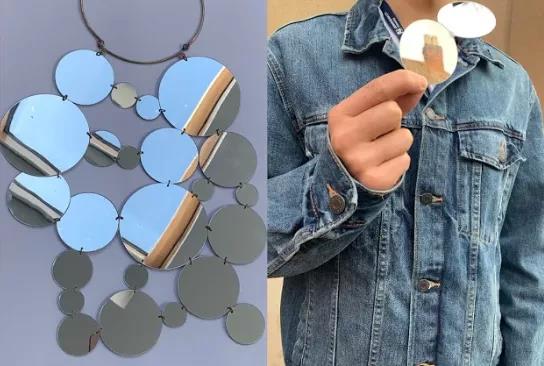 Yu Liu
我们在空间之中
空间也在我们之中
我们的生活空间
就是我们的诺亚方舟
I am a contemporary jewelry artist from China who is studying the interrelationship between living space and individuals. Inspired by the French philosopher Gaston Bachelard and the artist Antony Gormley. I hope the audience could feel the value of the space we inhabit through my works. The space which we live they are in us as much as we are in them, and they are also the space against hostile forces. I use mirror effect to reflect the wearer's environment, so as to achieve the purpose of integrating the wearer with the environment. My final work is composed of photography. In this special period, the whole world is experiencing cv19, we must stay at home, we will have a deeper understanding of the space we inhabit, maybe the space we inhabit is Noah's ark for us.
Self-Explore & Relief
L01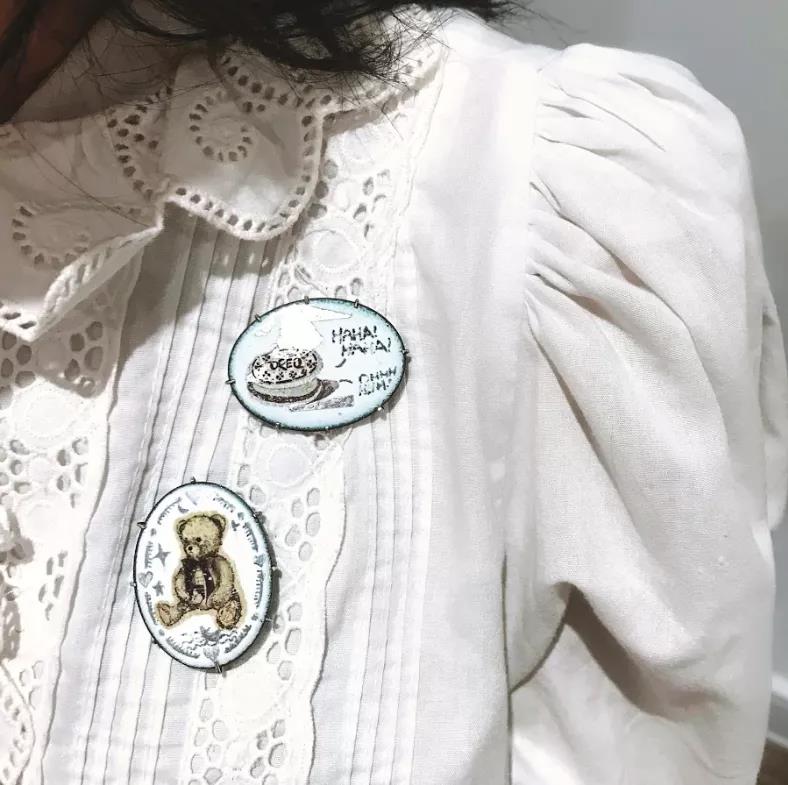 Lisa (Yihong Liu)
"Talisman"
护身符
映射了人们的恐惧与欲望
我的作品发想来自古埃及的护身符
在装饰的同时,试图为人们带来
精神上的抚慰
There are always problems in the world that cannot be explained by modern science, and this mysterious and strange phenomenon is still fascinating to me, especially in the human spirit, it can directly reflect the human desires and fears in today's society. My inspiration comes from ancient Egyptian amulet jewellery. My works use symbolic elements to present personalized amulet jewellery, hoping to bring decoration while relieving the spiritual pressure of human beings.
Ins: 1hongliu_official
Email:lyh961218@icloud.com
L02
Yimeng Zhai
焦虑是每个人都有的知觉
过多或过于长久会造成伤害
我的作品提出了类似冥想的抽象概念
以互动的方式,
引导观众与焦虑和平共处
I am a Chinese contemporary Jewellery designer studying in Birmingham, UK. My theme is the relationship between the human being and sentiments. The starting point is how to get along with anxiety. This kind of emotion is common to everyone, but it must not be overdone and cannot last for too long. So how to deal with it, name and express emotions is essential. Meditation is an option, which is a training of the brain, just like medication for the body. Starting with focusing on specific organs to feeling abstract sentiments. My work tries to express a feeling similar to meditation, combining metal, integrated materials and natural elements, strengthening the connection between the work and the audience through interactive forms, and enhancing the audience's sense of participation. I want people to feel peaceful when wearing my work. Be able to understand better and accept their emotions.
Material: Gold-plated copper, Acrylic, Talus.
Email: yimengzhai1819@163.com
The body
T01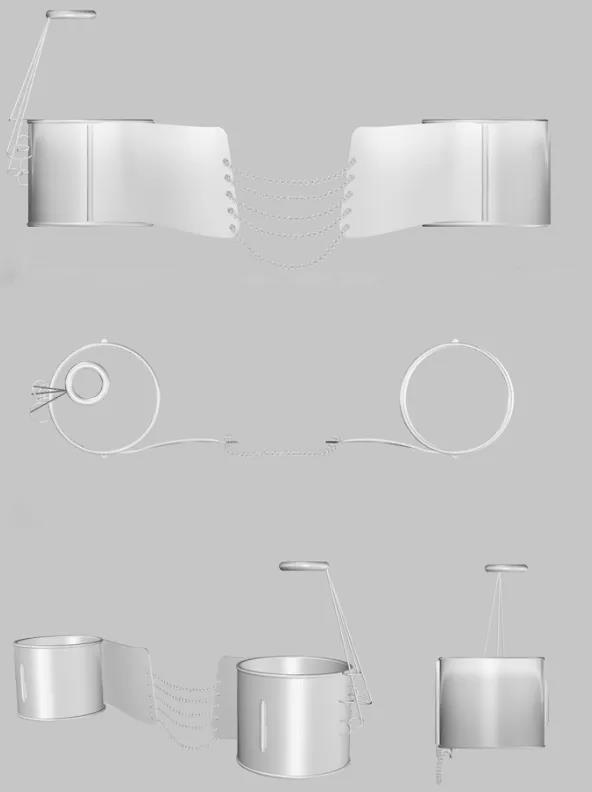 Yian Wang
"Back brace"
我的作品灵感来自成长过程中
长期穿戴的背部矫正器
背部的佝偻不仅让外表不美观
也影响了我的精神状态
我希望借由穿戴首饰来展现我的感受
I'm a contemporary jewellery designer from China. I'm interested in the relationship between jewellery and the human body. The inspiration for this piece is my experience of wearing a back brace. Because of my hunchback habit, in addition to the unattractive factor, long-term hunchback can also cause spinal deformation, so I tried to keep my back straight by wearing a back corrector. I wanted to use my work to express how I felt. I'm exploring how to use my work to influence the shape of the back. When wearing this series of works, the wearer will feel constrained and keep their back straight.
Email: Yianjewellery@163.com
T02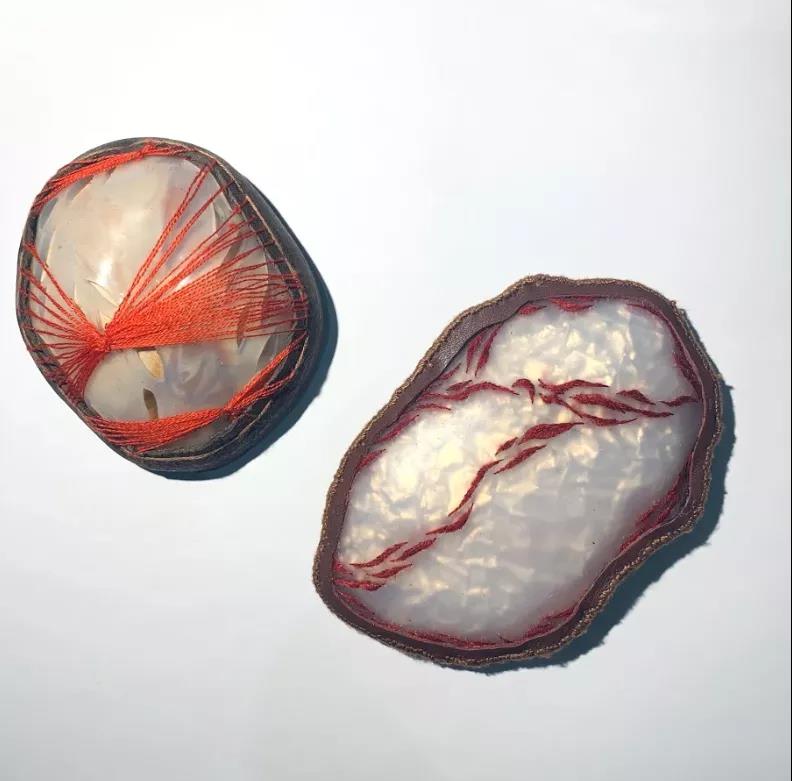 Luna
"妊娠纹"
身体上每一道疤痕
都是生活事件的轨迹
审视关于美丑的成见
人们应该与自己的生命和平共处
I am a contemporary jewellery designer from China and I create jewellery about stretch marks. People have many birth defects and acquired scars on their bodies, stretch marks is one of them. There is a large number of women cannot accept it. Therefore, they have the sense of inferiority. On another hand, it is not a perfect thing to own the smooth skin. These women often feel pressured to look a certain way. But I think they should accept their looks and find out the beauty from their bodies.
I hope these works can get them thinking. It is a social problem, not only women, but also other people should think about why they look at stretch marks in a different light.
T03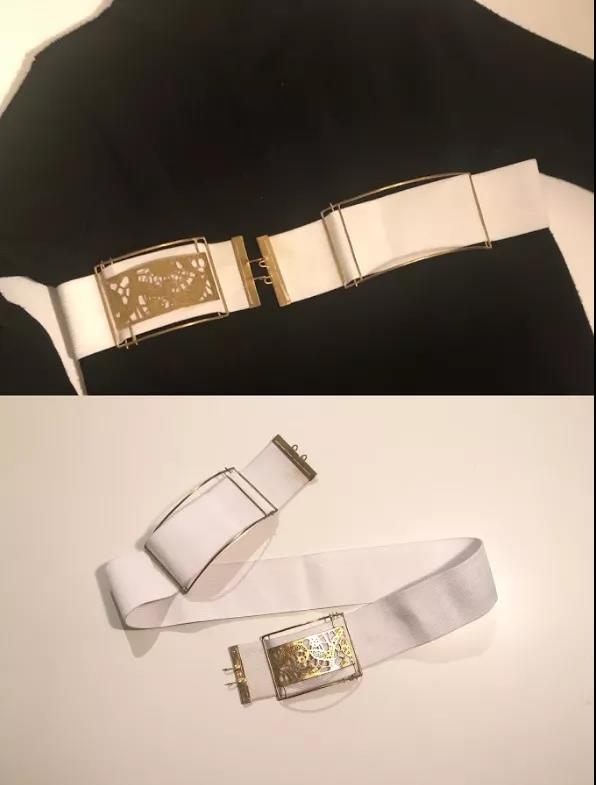 Luting Xu
从中古欧洲的束腰
到今日逐渐讲求舒适与装饰性的服饰
许多原本功能为束缚的衣物
逐渐转变成为身体的装饰
我的作品试图探讨衣物与女性身体的关系
I am a Chinese contemporary jewelry artist studying in Birmingham City University. My work explore the relationship between clothing and women's bodies. With the liberation of women's bodies, many clothings have also changed. Take the bra as an example, on the medieval European nobles, it was very popular to wear a tight-fitting corset, which caused pain and discomfort. Nowadays, people are gradually paying attention to its comfort and decoration. I combine elastic bandages with metal to create a body piece. I apply the lace element of the bra into my work,I use hard materials such as brass to replace lace to create a visual conflict. By changing the form of wearing , some clothings are no longer a tool that binds the female body, but a body decoration.
Material: Elastic, Brass
Ins: xluting
Email: xuluting0919@163.com
T04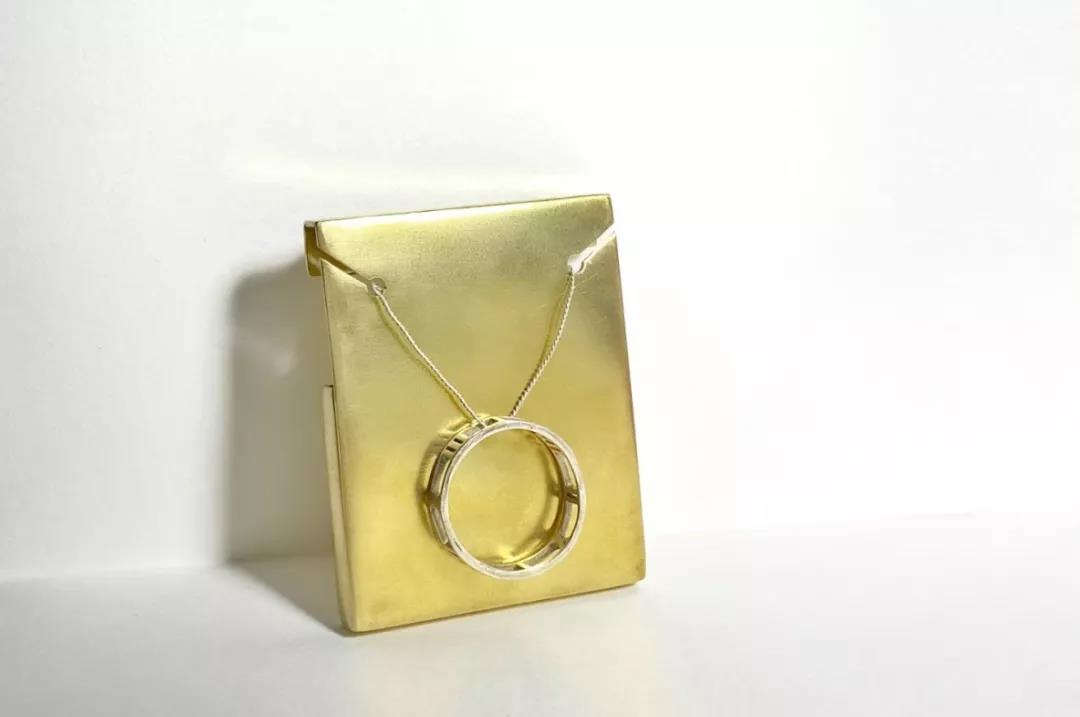 Bing Song
我是一个对大部分金属过敏的人
但是我还是喜爱佩戴首饰
人们的过敏源来自各处
羊毛、猫毛、硅胶、花生米...
我的作品试图用反讽的方式表达
人们与过敏的斗争
I am a Chinese Jewellery artist which is studying in Birmingham, UK. My works are based on my own experiences and feelings. I hope to find common experiences of people by exploring myself.
My recent work is about allergies. I have many allergens. Some of them are inevitable in my life. Some are optional but also have an impact on my life.
Although I am allergic to most metals, I still love jewellery and want to wear jewellery. Some people are allergic to silicone, some are allergic to wool, allergic to cat hair, allergic to peanuts…I hope my work can help them carry these things they will be allergic to and present my work in defying and ironic way.
Material: Brass
Ins: bingoniubi
Email: songbingvera@icloud.com
T05
Savi Ningxin Wu
" Wound I "
身体是生命有机体、是身份、
是社会的影响
身体是摄入和产出的中介点
我试图模糊实体和精神的界限
希望能引导观众从另一个角度思考自己
l am an object maker from China, currently based in the UK. My work is exploring the relationship between body and surroundings, our body include dynamic biological processes, identity, social impact. People think though body so that body is a medium for input and out put. I would like to blur the boundary of biological object and sprits, by magnifying or emphasizing one of them.I use leather and metal to create the sense of skin and body, imply weak and strong, hoping people can rethink themselves in a different perspective.
Materials: leather, brass
Ins: ilovewnx
Email: savi1208@gmail.com
疫情的发生使全世界陷入了危机时刻,
人们不得不打破原本的计划重新规划生活。
足不出户的日子是窘迫的,
是难以描述的艰辛。但同时,
这也是一个难能可贵的休憩时刻,
让我们重新整装待发。
也许这是一个独有的契机
让我们重新定义未来。
艺术在这个特殊时期
也发挥着不可思议的作用,
可疗愈伤痛,可慰藉心灵,
可宣泄情绪,可讲述故事。
它生动地伴随在我们左右。
BCU MA班里的每一位设计师都未曾懈怠,
虽然困难重重,但他们仍挑战了各种局限,
尽可能地呈现出了最好的作品。
此时,网络作为传播信息的优良媒介,
为艺术家提供了渠道。
因此本次线下展览转移到了线上,
我们在这里分享想法和建议。
这宝贵的时刻是留学生涯的一部分,
是我们在灾难中留下的难以磨灭的印记。