Loading…BCU首饰研究生学习成果中期展(上篇)
● 2020.04.22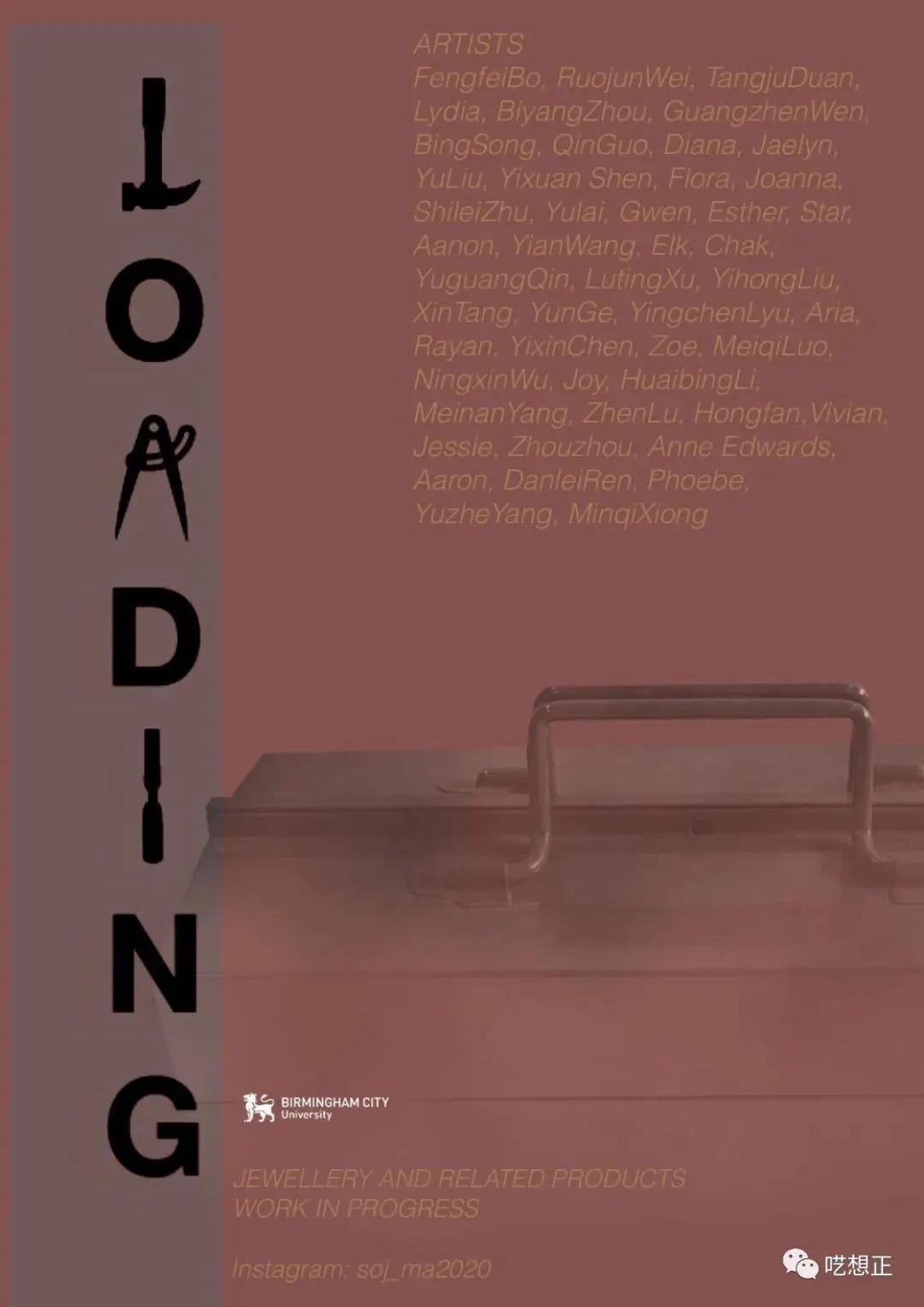 海报转载自公众号:呓想正
'Loading'
is an online work-in-progress show,
exhibiting 46 MA students
who are currently studying the
Jewellery and Related Products course at Birmingham City University.
This exhibition combines a range of outcomes
based on jewellery and its perceived
values, functions, and forms.
We hope this exhibition allows insight
into our thoughts, ideas, concepts,
and challenges the expectations of
what jewellery is
and what it can be.
"Loading"
是 BCU 研究生的学习中期展览
其中囊括了46位正在伯明翰城市大学
学习珠宝及相关产品学生的工作展示
本次展览结合了一系列基于
珠宝及其感知价值、功能和形式的成果
希望让人们更深入地了解
我们的思想、理念、概念
并挑战我们对首饰是什么
和它可以是什么的期望
以下作品都是同学们
在疫情艰难的条件下完成的
整个设计过程还处在中期阶段
本次展览以线上形式展示
一共分为上下两篇
更多讯息请关注公众号:呓想正
作品按类型分组,排列不分先后
Enviroment Protection
E01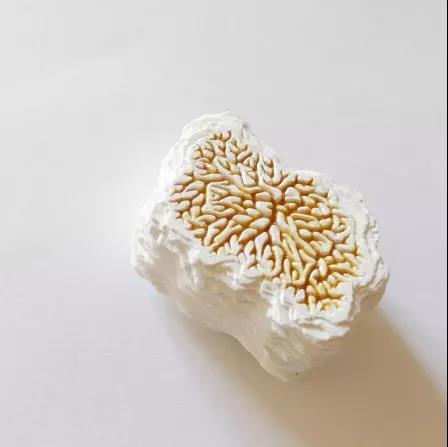 Guangzhen Wen
在我的研究当中,
材料是非常重要的一环。
我试图全采用对环境友善的有机材料,
或是可持续的素材,
来创作我的作品。
What's the destiny of our nature and environment?
I am a contemporary jewellery artist from China, currently based in Birmingham UK. I am concerned about the relationship between nature and human beings and the future. I like to use the life forms of nature as the starting point of creation to discuss and attract the public's attention to trigger reflection and thinking about our environment and destiny of the earth.
Material is an important aspect of my project as I try to do everything eco-friendly. So I usually use natural organic material or sustainable material to make my works. Like some bio-material mixed waste food or fruit pericarp. Also, the wearable form is an important way to express my concept, combining poetry aesthetic form,I try to create something looks beautiful and conceptual.
E-mail:dayuwgz@163.com
E02
Xin Tang
我把树木看作人与自然间的媒介。
以木材制作首饰,
我试图探讨人与森林的关联
- 残败的枝桠仿佛脱落的毛发,
森林的消亡也预示了人类的危机。
I am a Chinese jewellery artist studying in Birmingham City University. I'm interested in the texture of wood, and my work now is to explore the charm of wood and use it to make jewellery. I believe that wood is a medium for the connection between people and nature. I try to explore the relationship between forest trees and people by wood jewellery. Falling branches are like falling hair, naturally falling dander of human being. The pieces of wood are stacked on top of each other, like skin and keratin. In my work, I use ordinary fallen branches that I picked up from ground. After slicing, polishing and spraying, they have a different texture, the combination of them seem to be able to become a part of the body, people can see the sustainable use of wood and think about the protection of trees.
ins:tangtangtang
E-mail:jessica.xin.tang2@gmail.com
E03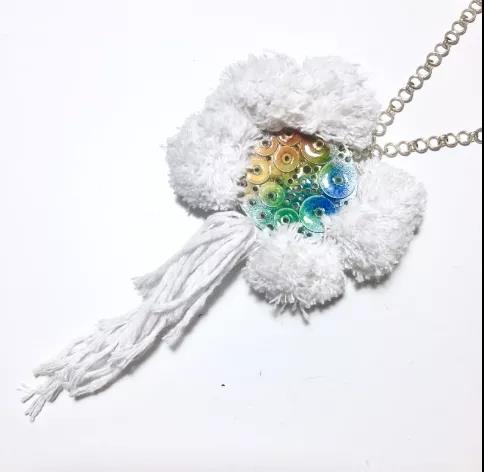 Joanna
"Coral Bleaching"
我喜爱珐琅晶莹多彩的表达,
珊瑚的有机与珍稀
通过珐琅有了具象的展现。
热爱潜水的我亲眼见到
海底的珊瑚正经历白化病变。
大多数人看不到的现象不等于不存在,
能源与废弃物造成的暖化正在毒害海洋。
I'm a Taiwanese contemporary jewellery designer and I create ocean protection issues jewellery. I'm concerning about the coral bleaching issue. We can't easily observe what is happening down in the ocean because it is hard to reach for most of people. As a scuba diver, I have noticed the under sea creatures are struggling to live at this stage. Humankind don't notice what they are producing over energy and waste which result raising temperature and acidic the ocean. I am interested in colourful enamels which make jewellery a delight appearance for the beauty of alive corals. On the other hand, I use white cotton strings to mimic what have happened to the coral bleaching. It is a ironic contrast that the beautiful coral is now been damaged by humankind and become deadly white coral bones. I'm trying to use my piece to tell a story about the ocean situation. To make people reflect how they produce unnecessary waste including energy and plastics in their daily lives.
E04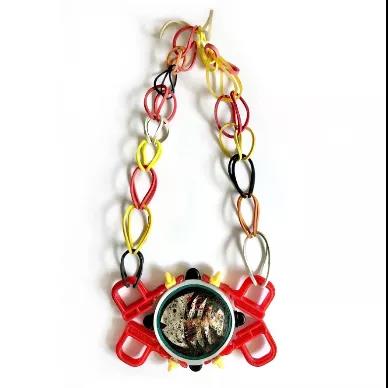 Phoebe
"PLASTIC LASTS FOREVER"
塑料不可降解,
今日的塑料必须经过亿万年
才会转化为石化燃料。
借由作品,我发出质疑:
人类是否意识到自身无谓的消耗?
塑料的废弃是否真的无可避免?
I am a Vietnamese designer who is passionate about waste and use recycled materials to make quirky, beautiful jewellery. I am inspired to create interesting and thought provoking pieces from recycled plastic that can make people think about their use of plastic and also stimulate feelings and emotions around the damage that is being done to humankind by discarded plastic waste.
As we know plastic does not easily bio degrade. Today's discarded plastic is tomorrow's fossilised remains. I hope that my work raises questions regarding humanities wastefulness and it's needless discarding of plastic. I believe that we can reuse plastic and make interesting pieces of artistic jewellery.
Materials: Recycled plastic, Recycled rubber bands, Aluminium from soft drink cans and Bioplastic.
IG:phoebedao2911
Email: dntphuoc.design@gmail.com
E05
Zhengda Wang
"Plastic planet"
我惯常对材料进行解构与重组、融合,
试图找出更多的可能性。
在我的试验及作品中,
塑料对环境不可逆的影响,
被具象化地展现。
I am a contemporary jewellery artist, China. Sometimes I collect the daily plastic garbage in my life as the materials for working in the studio. Sometimes I buy ready-made materials. I often try to decompose different materials to see if they can be integrated. My theme is unlimited. At this stage, I pay special attention to environmental protection issues, such as the damage of plastic waste to the environment. I try to use my works to make people realize that every time plastic waste is discarded, it will cause lasting damage to the environment.
My art is about the environment. My art is about environmental awareness, about everyone. My art is my reflection, including others.
Materials:plastic bottles,copper
Email:wangzhengda0426@gmail.com
E06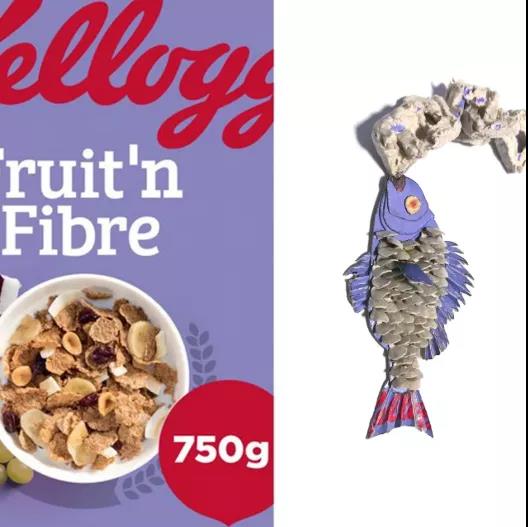 Yuxing He
我研究的重点在于
引导观众自行创作可持续性的首饰。
借由使用自身产生的废弃物作为首饰材料
创作者势必会对废弃物的定义
产生新的认知。
循环与重复,
这件特定的作品在《百年孤独》中
寻得了回响。
I'm a contemporary jewelry designer from China. I'm interested in sustainable jewelry. I want to help people reflect on their behavior by the process of making jewelry from reusing their own rubbish to slow down excessive and unnecessary consumption of earth resources.To achieve this goal, my postgraduate study focused on design a set of jewelry tools for consumers to transform the paper into daily wearable jewelry.
At present, I have explored various stainless steel tools to deal with paper waste, such as folding, cutting, shredding and so on. In visual form, I choose the book ' One Hundred Years of Solitude' as my guide. The circular concept of the fate of characters, objects, and environment in the book coincides with my theme. The main character of the novel, the Colonel, repeatedly converted gold coins into gold fishes business. Through this repetitive work method, he obtained a peace of the spirit. In my work I replaced gold with waste paper. This is not only an exploration of the physical technology of paper plasticity, but also a rethinking of its value. For example, paper trash is so easy to create, so its fragility after being made into jewelry can be forgiven, because people can immediately make a new one.
E07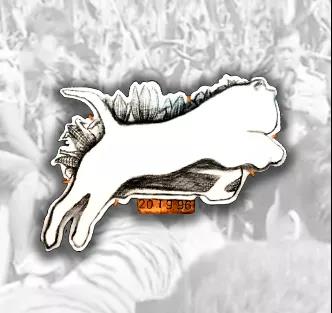 Yuhong Zuo
数年前中国就存在禁止动物表演的法规,
却没有良好的落实 -
我认为这是社会整体认知的问题。
在我的作品中,
我结合了珐琅工艺与新闻时事,
以首饰传达并表明我的认知。
I'm a contemporary jewellery designer from China and I'm doing my masters in Birmingham. I wanted to express an attitude of rejection of animal performance through my work, which I defined as a medium of communication or a signal, It conveys this attitude to the wearer and the audience. When people wear it, they can not only show their rejection of animal performance, but also transmit this attitude to more people, let more people face up to this problem, and trying to change the status of animal performance in China.
At the stage of my research, I learned that China has had some policies on banning animal performances since a long time ago, but these policies have not been well implemented. In my opinion, social cognition is a large part of the reason, this is the main reason why my work focuses on delivery and attitude. By using the real news about animal performance that has attracted a lot of attention in recent years in China as the background story of my work, I reorganized and designed the main elements in a narrative way, acted out in the form of the pencil enamel, on the other hand, I put the real and serious pictures of the news in the way of transfer enamel at the back of the work, which is beneficial for the audience and the wearer to understand better, and also brings different expressive effects to the work.
Social Topic
S01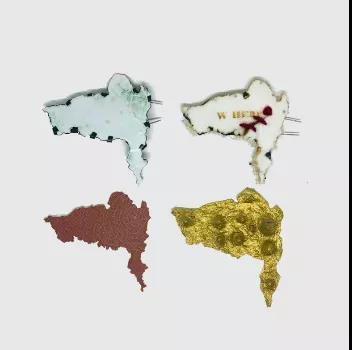 Danlei Ren
"One of"
不同的材质及纹样,
代表了无家可归者的人数
我认为首饰是可以传达社会议题的媒介
这组作品中,
每个佩戴者都成为数据的一部分
I'm a Chinese designer. My work is inspired by the homeless. I explore the role that jewellery can play in the charity. As an invisible vulnerable group, the homeless need to be widely concerned. Wearing jewelry is a great way to spread a topic in society. Anyone who has a home to live can be my audience.
My work is dedicated to inviting more people to join my topic. I use different material patterns and fluctuations to mark the number and location of homeless people. The brooch I made can serve as a statistics carrier. As people wear statistics, they become part of it. Such an ironic expression prompts us to reflect on the problems of today's society.
Materials: Paper brass plaster clay
IG:dask_ren
Email:rendanlei505@gmail.com
S02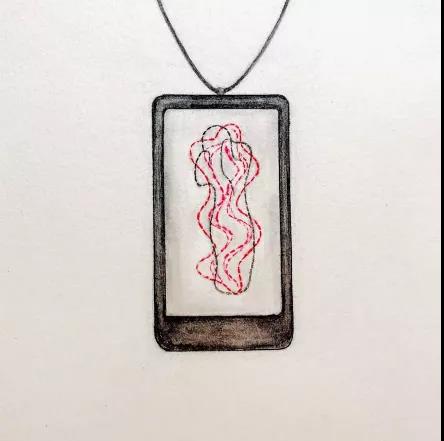 Diana
交叠的身影,针线穿过的躯体
人们是否意识到,
社交媒体让女性对自身肉体呈现
所产生的焦虑?
I am a jewellery artist from China. I am keen to explore people's emotions and related social topics based on my own experience. In my current work, I explored the issue of women's body anxiety. I consider it's often related to the aesthetic that social media conveys today, which makes many people feel dissatisfied with their bodies and even causes eating disorders. I try to combine different materials and explore the possibility of them, and I use silver and acrylic. By stitching two different colours and distorted body shapes on acrylic, it reflects the inducement of social media and the anxiety behind the screens. By showing my work , I hope people can be aware of potentially harmful effects that social media can have on our physical and mental health.
S03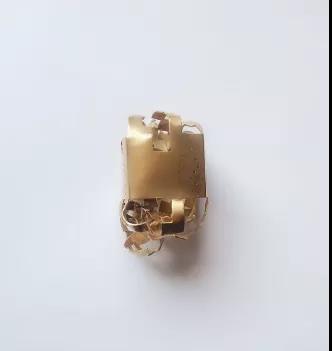 Esther
我的作品灵感来自QR码。
社交媒体盛行,
社交模式、平台、甚至对象都可选择
在当代社交语境中,
人们究竟更活跃还是更淡漠?
I am a contemporary jewellery designer from China. I am interested in how social networking affect interpersonal relationship. The most relationship of people are a blend of online and offline interaction. Does internet makes people more indifferent to each other or makes them more intimate to each other? I make jewellery explore people behaviour and psychology behind the internet. This brooch is inspired by the QR code, and I sawed the copper for matrix form. People might make friends online and chatting in interests group online through scanning the QR code. Social networking provides a platform for people who want sharing to make them communicate with more people. People could choose a comfortable chatting mode on the internet, and they could find a sense of being on the internet.
Ins: esther6_6
Email: 15902760425@163.com
S04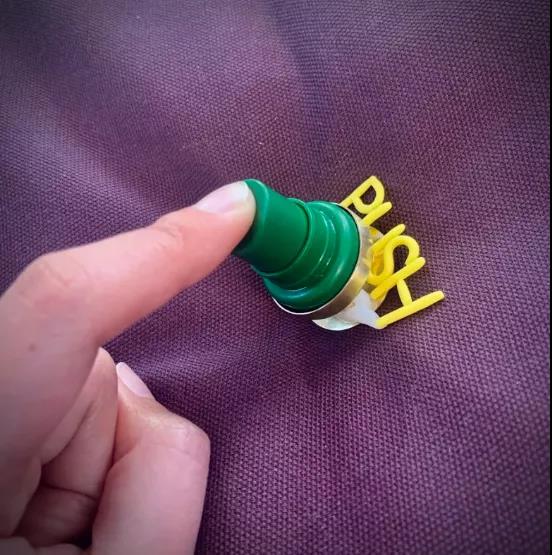 Fengfei Bo(Fiona)
我是一个对生活充满好奇,
勇于发现"痛点"的人。
我喜爱功能性首饰及叙事性首饰。
"陌生人按钮" -
这件首饰回应了社恐症者的心声。
I am a contemporary jewellery artist come from north of China.I am good at starting from my own life, finding and recording the problems around me as the source of my creation. My subjects usually use metal and ready-made objects. I am interested in function jewellery and narrative jewellery. I love diversity. I hope my work is functional and people can solve some problems in their lives through my work. At the same time, I also want to do works about private thoughts.
The purpose of this work is to help people alleviate some social problems. After interviewing several people with social problems, I found their common pain: there is a paradox in strangers' contact: on the one hand, they want to make friends with strangers; on the other hand, they are nervous and afraid. So I made a "stranger button", hoping that my jewellery could be used as a tool to connect strangers.
My jewellery is about daily life.
My jewellery is about myself.
IG: fiona_bo
Email: bofengfei0317@126.com
S05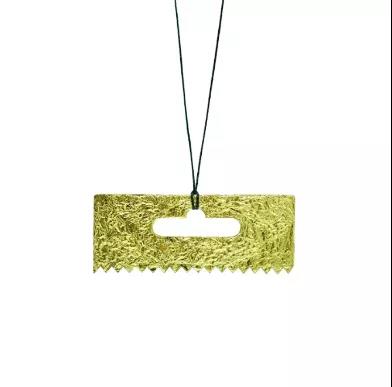 Shilei Zhu ( Slade)
"Positional good"
商品与金钱造成的社会阶级认知
让消费者被消费品消费而不自觉。
作品外型来自吊牌,
通常存在于快销或廉价商品
镀了金的吊牌
提出了价值与表象的悖论
I'm a contemporary jeweller from China. I am focusing on the topic of symbol consumption. I tried to explore the relationship between symbolic attributes of goods and identity.
My work is to criticize the consumer society. We live in a consumer society where people buy goods to express their identity and sign. When consumer goods realize the function of distinguishing status, it will lead to the social consumer psychology of collective competition. Through the influence of advertisements, people are neglected to their actual needs and are encouraged to reach others' state through consumption. We're actually being consumed by symbolic goods.
The shape of my work comes from the hanging packaging. Because the use of hanging packaging is usually practical, cheap, fast-selling goods. This kind of goods are usually our daily needs. I use gold foil to decorate the metal surface, giving people the illusion of false materials and luxury. Because gold only exists on the surface, this metaphor humorously expresses the irony that people package themselves through the social symbols of commodities to improve their social identity and status.
Material: brass, gold leaf
Ins: slade_zhu
Email: zhushilei79@gmail.com
S06
Sophia (Yixuan Shen)
我创作叙事性首饰,
可爱的色彩与图像,往往表现的是
隐晦而严肃的内涵
这件作品表达的是审查制度。
我希望借由作品,
和观众产生连结
I'm a narrative jewellery designer. My works come from thinking about some historical and political events, and reflections about my own living environment. I like to use abstract and metaphor to convey information through imagery. Most of my works looks colourful and cute, which is in contrast with the theme of the work, hoping to bring the audience a sense of satire and irony.
The inspiration of this work is related to our censorship. Every imagery has a meaning behind and it is interesting that different people might have really different understanding. I hope I can build a relationship with audience through my work.
S07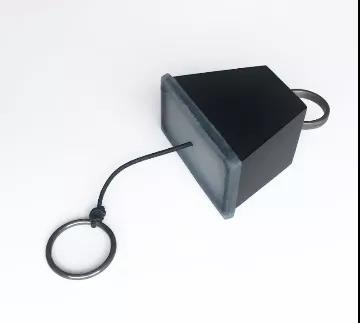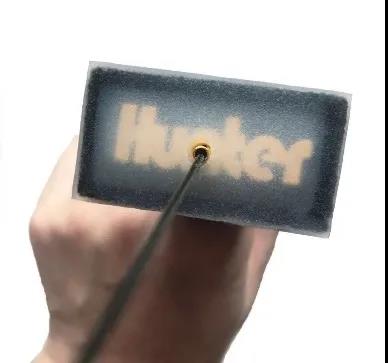 Yun Ge
'Self Box'
我的身边出现越来越多有收集癖好的人
我相信在"收集"这个行为背后
有着深层的心理原因
我制作了两个戒指,一个是
代表"收集癖"的盒子,
另一个则是让任何想
了解这个"收集癖"的人
可以拉线打开盒子窥视
I am a Chinese contemporary jewellery artist. Over the years, I have been interested in exploring people's inner self through observing their behaviour.
My current project is about collectors. I have seen an increase in the number of people around me who had the behaviour of collecting in recent years and some of them saved money for buying collections that they felt were valuable, despite that they were not wealthy. I believe there is a deeper psychological motive for such a behaviour. Hence, I try to explore the reason why collectors collect and put this hidden reason into a secret container as a collection.
I made two rings on this secret container, one is worn by collectors themselves, another one with the cord could be worn by people who want to know these collectors more. By pulling on the cord, people can explore what is in the collectors' secret container.
Ins:gea0330
E-mail: yun.ge.a03@gmail.com
Daily & Ritual
D01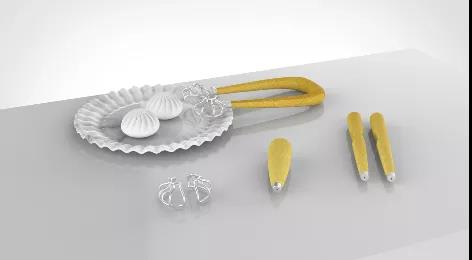 Aanon
"BUN"
这是一个以中国菜式为灵感的首饰系列
我为每一道菜创作专属的餐具
这件是小笼包
餐具是互动式的
观众可以拆卸换上自己喜欢的接头
用自己的方式"享用"
I'm a contemporary jewellery artist from China.This is a project about tableware I inspired by several special dishes in China. I designed that tableware specially for them. This is one of the groups which about Bun. The shape of Bun is the main design of the metal top then with three different handles. The screw connection allows the audience to choose their favourite way to eat by changing the handle. The handle is designed with a waterproof cloth as the surface, which is filled with cotton so that it will not have the cold touch like traditional metal tableware, and it will be very comfortable to touch, just like Bun.
Material: Silver + Frabic
IG: aanonliang_jewellery
D02
Elk
"The movement of the human body"
我的作品在于呈现人体动作的轨迹
生命恒动,感知常新
I am a contemporary jewellery artist from China. My work explores the movement of the human body, including the way people move and the trajectory they create as they move. Converting the recorded motion trail from 2d to 3d is what I'm doing. I was attracted by the retro texture of the metal, so I made a retro little medal out of metal and enamel. Through my project, I want to express my thinking that life lies in movement and remind people of proper exercise in their daily life.
D03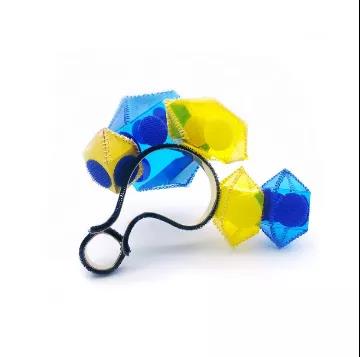 Vivian
人们为何喜欢八卦,又从中得到了什么?
- 我试图以作品表现"流言"的特质与意义
I am a jewellery designer based in China. The concept of my work is focus on the similarities and differences between the communicative function of gossip and jewellery. After doing some research on gossip, I found gossiping as a way of communication has a certain commonality with the communication between designers and audience through jewellery. I interviewed different groups of people periodically, in order to understand different views on gossiping; the influence of gossiping behaviours; the reasons why people love to gossip and what they expect to obtain from gossiping behaviours. I also reviewed on sociological books such as 'Social Psychology' to explore the motivation and psychological reasons of the gossiping behaviours. I use coloured transparent acrylic, Velcro, laser cutting and other materials and methods. I look for the right materials and methods to allow me to show the characteristics of the gossip. The project aims to presenting the communicative function of gossip in jewellery and expect to intrigue people who wear them to consider gossiping behaviours.
D04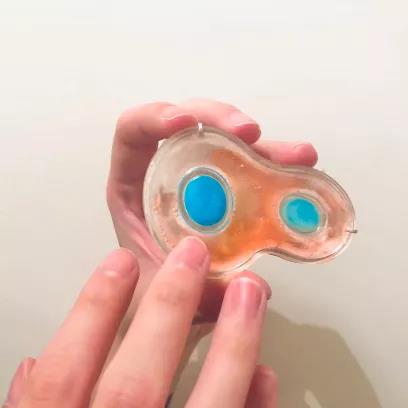 Yulai
物件的外型是否会影响我们的行为?
改变肥皂的形状
是否会让人们更愿意洗手?
我的作品试图打破人们
对于日常物品的成见,
并提醒观众洗手的重要性
I am a jewellery designer from China, based in Birmingham, UK. My works explore how to stimulate people's desire to washing hands through changing the form of soap. Washing hands is an important thing in our daily life, but some people pay less attention to it. I want to change the form of soap to attract more people to use my work and let them know the importance of washing hands.
Ins: songraining
Email: zhengyanping1122@gmail.com
D05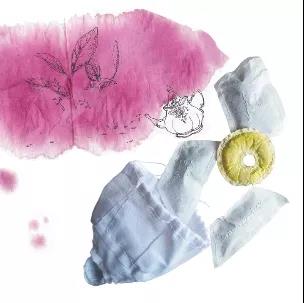 Zhen Lu
"Would you like a cup of tea?"
喝茶,是社交仪式,是生活感,
也是当下片刻的凝结。
我的作品旨在传达
共享茶饮的宁馨与自得。
I am a conceptual jewellery designer from China. My work focuses on the notion of communication, sharing and exchanging between people. In my project, all these actions initially start with tea drinking.People like tea. My surroundings, in their mind, tea is a part of their daily life. In China, as the saying goes not any of the days can without tea! A song sings in British. Everything stops for tea. People drink tea in all over the world; this delight drinking virtually connects people. Tea gives peace; little words were written on the tea bag to share. Such like A cup of peace, hot caution, love tea love life. This jewellery designed to share and to invite! The wearer can share their teabags while they wear it. The tea stain which left on the tea bag can make the work a jewellery art piece means to keep the moment of the enjoyment.
Why not have a cup of tea and enjoy the moment of pleasure?
IG: Alina_zhen
E-mail:z.jewellery5@hotmail.com
Art & Creation
A01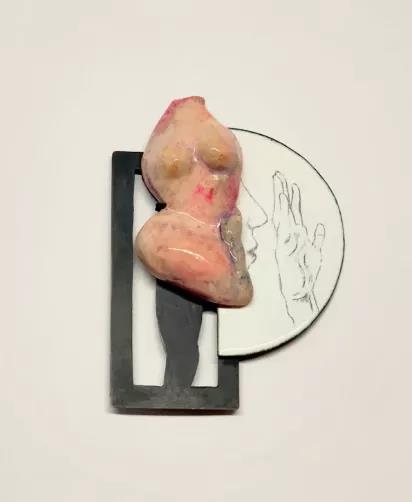 Jaelyn
"Exquisite corpse"
超现实主义带来无可名状的模糊感,
借由幻想与梦境,
我感受到了周遭事物如何影响了我的意识
挖掘意识,于是我有了
面对渴望的勇气
I am a contemporary jewellery designer from China who is interested in surreal art. I am fascinated by the extraordinary, unexplainable feeling that blurs the line between reality and imagination brought by surrealism. My recent project is to convey the importance of imagination through surreal art. I think imagination is the most important ability of human beings, and in some cases, it can give me strength beyond myself. I was inspired by dreams during the project. This unconscious imagination allowed me to observe the impact of the surrounding environment on me. I tried to use painting to record the unconscious reality that I couldn't capture and then made a wearable surreal artwork from clay, enamel, and metal. I use my work to focus on dreams, psychoanalysis, and fantastic images. Focus on thinking about your own ideas and have the courage to explore and accept desires.
Ins: Jaelyn_junlin
Email: lijunlinll@sina.com
A02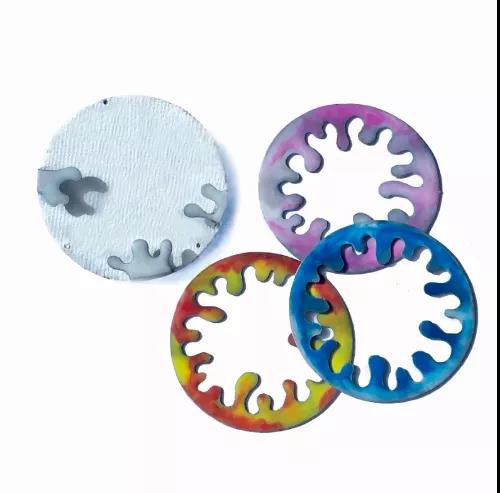 Jessie
"Unleash Your Creativity"
我使用了蜡笔和钢,来代表
童年与成年。
我试图将童年的玩耍
与成年后的创造力连结,
可调换的部件让佩戴者参与到过程中,
找回童心与创造力。
I am a designer-jeweller based in Birmingham, UK. My current work focuses on creativity, specifically, the association between adulthood creativity and childhood methods of play. I have incorporated a range of playful elements into my piece in order to reignite and draw out the wearers' creative tendencies as well as remind them of their childhood memories. I used crayon and steel as main materials because crayons can be easily associated with childhood, while steel symbolises the cold and mechanical nature of adult life. The wearers will be able to create their own jewellery through selecting various changeable parts whilst the blank body will allow the wearer to further develop their creativity where each piece is the work of the wearer.
Materials: steel, crayon, canvas
IG:jess_chen411
Email:sweet94304@gmail.com
A03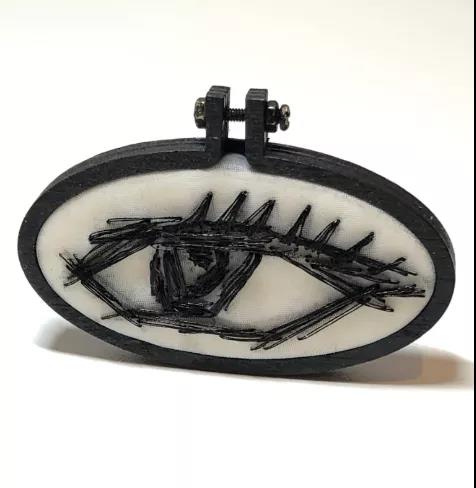 Tangju Duan(Jewel)
我的作品灵感,来自八大山人的水墨画
八大山人的画作中,
眼睛常呈现出孤愤清寂的特质
我热爱中国文化,这件作品
我使用了水墨和刺绣的元素
表达"眼睛"与其情感呈现
I am a contemporary jewellery designer from China. Influenced by traditional Chinese culture, I am very interested in ancient Chinese ink painting. Through the understanding of the Chinese ink painter "Bada Shanren" in Ming dynasty, I became curious about his "lonely" way of creation. His "loneliness" is clearly expressed through the contemptuous eyes of animals in his works.
As the well-known saying , "the eyes are the window to the soul", I began to explore the relationship between the eyes and people's experience, personality and emotion, whether people can see the real emotional expression from the eyes and the life experience of the owner of the eyes. Maybe this exploration can help people communicate better with each other, which is not easy to misunderstand.
As the inspiration comes from Chinese ink painting and I like Chinese traditional culture, I choose to combine the expression of ink painting with Chinese traditional embroidery and add my understanding of the relationship between eyes and emotions to create my works.
Ins: tangju623
Email:duantangju@gmail.com
A04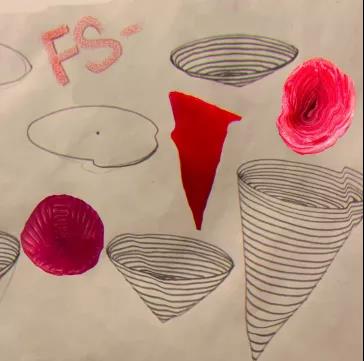 Joy
幻想是意识的产物,亦或是
意识源于幻想?
每个人都有属于自己的幻想空间,
时常我们身处其中而不自知
若我们能与自己的幻想空间产生对话
是否能能让我们在其中悠游释放?
I am a jewellery designer based in Birmingham. I was born in China. I am communicating the idea of creating imaginary spaces from reality in a unified form. In my opinion, people need fantasy. A private fantasy space can help people escape from the stress in their normal life. However, most people don't imagine subjectively. Sometimes they don't know they're in their own fantasy space. In this case, although they can still enter their own fantasy space, they do not have the ability to reform and manipulate their own fantasy space, which aims to better enjoy 'fantasy'. Through my work, people can notice the relationship between themselves and their own fantasy spaces. They are able to establish a dialogue with those parts subjectively, which will help them better feel both themselves and their life.
A05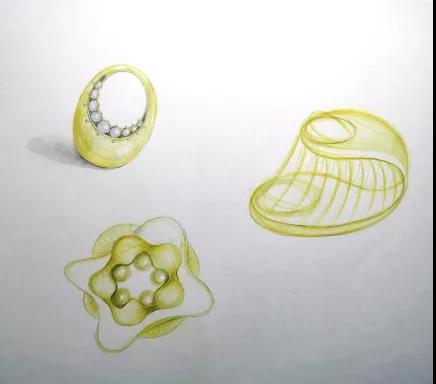 Ruojun Wei (Rigel)
艺术带来释放,首饰暗示心理
我的研究专注于首饰抚慰人心的作用
借由各种可能性,包括视觉、
触觉、材料及佩戴方式等等
我试图为每一个佩戴者找到私密的体验
I am a jewellery artist in Birmingham, was born in China, I focus on people's psychological state and the realization of individual stress relief by means of art, I think the emergence of art have relationship with the people's psychological needs and appreciation ability. When people basic needs are met, the growing demand for beauty or personality will be more. Jewellery is a reflection of personality of the art in daily life, it besides beautiful and also can comes with some practical value for the wearer. Not only it can express different from the traditional value, it can even have the effect of ease mood, will bring a positive psychological hint.
My research mainly focuses on use interactive jewellery to help people relax, because everyone has a moment of anxiety in today's society under the high speed development. If I can use some everyday items like jewellery to help people relieve anxiety, I think there will be of great help to people. I will focus on the visual and structure then try painting, materials, wearing ways, and in-depth exploration of using mode to design my work. My main direction is make some valuable and personalized products give people different experience.
Ins: rigel_wei
Email: weiruojunapply@163.com
Relationships
R01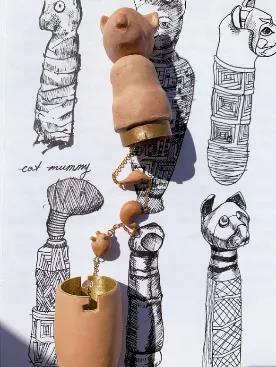 Flora
"Tooouch me"
我试图从埃及人
为爱猫制作木乃伊的角度切入
探讨人们对猫产生的情感依赖
I'm a contemporary jewellery artist from China, currently studying at Birmingham art college of jewelry MA courses.
My project topic is about to explore the relationship between human and cats, Also myself as a cat breeders from the love of cats had wanted to know more about this species of cat, so I read a lot of books on cat behavior psychology, I found a cat in the course of evolution in the process of exploring in the intimate relationship between people and between people establish emotional connection is made me very excited, The series of works I'm presenting here illustrates how cats were endowed with divinity by the ancient egyptians after they were first domesticated 4,000 years ago, and how humans became emotionally dependent on cats, Makes the egyptians the death of their pet cat in a similar way to after death, also is the mummy, so the cat mummies then arises at the historic moment, because the egyptians stems from a belief in the world after death, cause they have an obsession to the preservation of the body, think this is the manner in which unity is keep body and soul, can be well reflects the concept of emotional dependence and complementary between cats and people.
Based on the above research and the integration of the concept of the way I continue processing the egyptians mummified cats, on the body and internal organs of handled separately using the jewelry language to express, and to use clay to make cat mummies appearance and internal organs, this necklace has two types of wear, open the wear can see small internal organs of the mummy's internal structure, so can more intuitive reflect the egyptians mummified cats delicate so as to embody the delicate feelings between people and cats
R02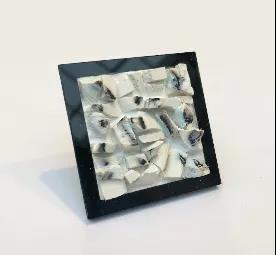 Hongfan
我们之所以成为现在的自己
一部分是因为他人如何看待我们
我的作品试图呈现一份来自朋友的礼物
作品成为了我的身份
创作过程是一场自我的探寻
I am a Jewellery artist which is studying in UK. I did some research about how can friendship affect people. I use some personal memory and use plaster to make concretization of my friendship and tried to figure out how they affect me. I am interested in the people's identity. I wonder why make us into us. I believe that the friendship played a significant role in our growth. I believe some parts of us are from the 'us' that other people think who we are. About the work, I modelled the gift that my friend sent to me and cut that into pieces. I choose some pieces and put into a frame. I treat my brooch as my identity and the process of making is the process that I explore myself.
IG:hongfan_001
E-mail:hongfanzhang33@gmail.com
R03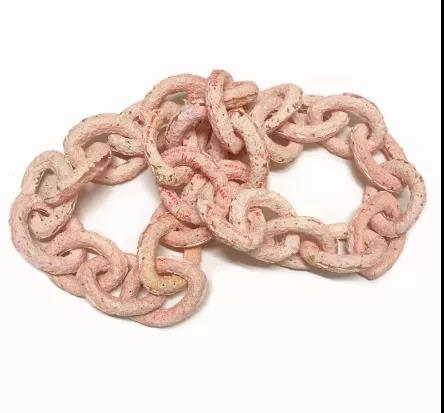 Yingchen Lv
"Bond"
亲属关系,有着牢固的羁绊,
却也常常被忽视
我的作品是以脆弱的纸张做成的大型项链
试图探讨亲属之间的规则与情感连结
I am a Chinese jewellery designer and my work explores the kinship across generation. I hope this bond, like jewellery, will be cherished and will not be disposed of at will. As we grow up, many relationships will be established, people seem to prefer to spend time exploring unstable relationships, at the same time leave less and less time for families. In fact, family relations need our attention even more. But how to deal with this relationship reasonably , I began to think about relationship in kinship, what rules are, and what emotions depend on. This connects us like an invisible bond. I used fragile paper to make a large necklace worn between two people from different generation and wrote daily dialogue on the cross part. language is special and implys different identities, I try to explore the meaning of love and emotion and translate it in my work.Materials: Paper mache, Pigment.
IG:yingchen_moon
Email: 1648589228lyc@sina.com